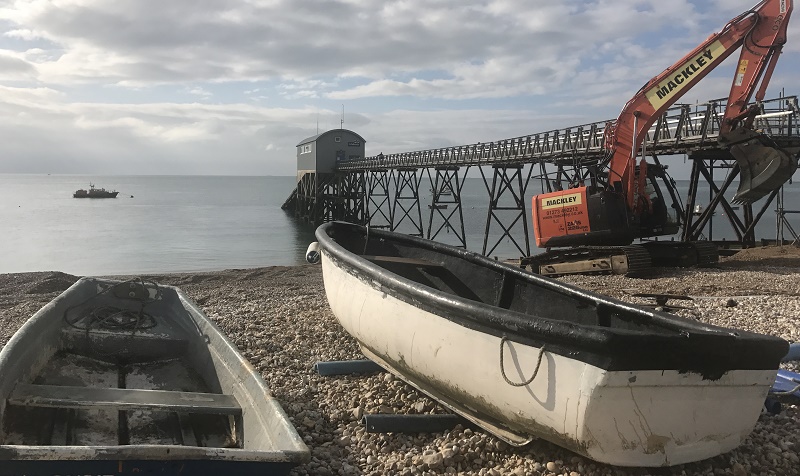 Mackley has been commissioned by the RNLI to carry out the demolition of a now redundant lifeboat station at Selsey on the West Sussex coast.
The former lifeboat station is now surplus to requirements following completion of a new lifeboat station, and Mackley has been tasked with demolition and removal of the old station, and the jetty from which it is accessed.
Selsey lifeboat volunteers have been saving lives at sea since 1861 and crews have received 10 awards for gallantry. The new station will house a Shannon class lifeboat, which will replace the Tyne class lifeboat that was previously based at Selsey.
The works, which involve the use of a jack-up barge, are scheduled to take three months and be completed by mid-July, depending on the weather.
The jack-up barge will arrive in Southampton and then be tugged to Selsey where it will be stationed for around one month while the demolition takes place. Once the demolition is complete, it will be toed back to Southampton for unloading.
The works also include removal of asbestos from the lifeboat station, and clearing the seabed following the removal of the demolished station.
Access has to be maintained at all times for the RNLI, and along the promenade for the general public. The Mackley project team will also liaise with local fishermen to allow them to operate throughout the works, and with local diving schools to prevent unauthorised diving in the work zone.
Mackley returns to Selsey
This is not the first project Mackley has carried out at the coastal village of Selsey.
An earlier project at Selsey West Beach extended the residual life of 1.25 km of existing defences. The project involved the placement of approximatley 37,000m3 of shingle along the frontage, and repairs to existing timber groynes and the reinforced concrete seawall.
The multi-award winning Medmerry Managed Realignment Scheme, completed at Selsey in November 2013, included the largest realignment of open coast in the UK.
The Medmerry scheme, carried out on behalf of the Environment Agency, is a key element in a 15-year project to provide 7km of new sea defences to protect local communities in West Sussex, while at the same time creating a large nature reserve.
The new defences at Medmerry significantly reduce the flood risk to nearly 350 homes, local infrastructure and the main road into Selsey, and are designed to provide protection against rising sea levels over the next 100 years.
---
17 May 2017