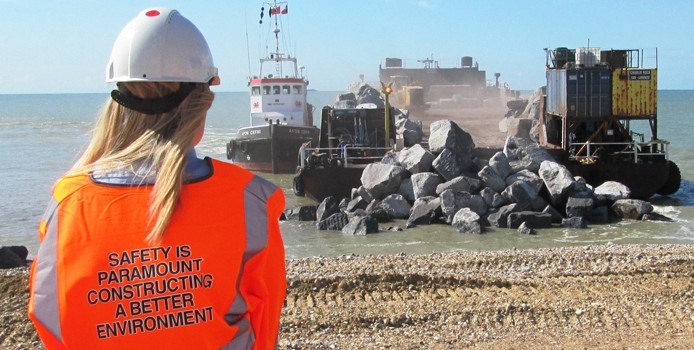 Team Van Oord (TVO) has topped the rankings in an annual sustainability assessment programme carried out by the Environment Agency.
TVO, of which Mackley is a partner, is one of a number of consortia listed on Lot 4 of the Environment Agency's WEM (Water & Environment Management)  Framework, which covers 'asset delivery'.
Each year all contractors listed on the WEM Framework have to complete the 'Schedule 14 Audit' which comprises a questionnaire covering a number of sustainability-related topics including: achieving value through sustainable solutions; materials risk assessment (including timber and steel piles); and the use of low carbon concrete.
The answers provided by WEM partners are assessed and then given one of the following four grades; 'non-compliant', 'areas to work on', 'compliant' and 'leading the way'.
With regard to the sourcing of timber, the information provided by TVO was described as 'the best we have seen on the WEM Framework'. The assessors also acknowledged the role TVO has played in helping Guyana* to achieve PEFC (Programme for the Endorsement of Forest Certification) status for the timber used on Environment Agency construction projects.
At the end of the process TVO emerged with the highest score of all Lot 4 partners.
Phil Ramsay, TVO National Framework Manager, said: "Naturally we are very pleased to have performed well in the Schedule 14 Audit, but we are in no way complacent with regard to sustainability.
"Our Environment and Sustainability Policy challenges us to manage the sustainability issues arising from our construction projects, which include minimising waste and minimising carbon throughout our supply chain, maximising benefits to local communities and training our staff on environmental and sustainability awareness.
"All four TVO partners – Van Oord, Mackley, Kier and Royal HaskoningDHV – have an ISO 14001 accredited Environmental Management System which includes environmental risk assessment procedures for use on site, and the site environmental auditing processes.
"We are pleased with where we are, but are continually striving to find more sustainable ways to deliver the important work we undertake on behalf of the Environment Agency."
*Footnote
Guyana is a sovereign state on the northern mainland of South America. It is, however, included in the Caribbean Region due to its strong cultural, historical, and political ties with the Caribbean Community.
17 November 2016