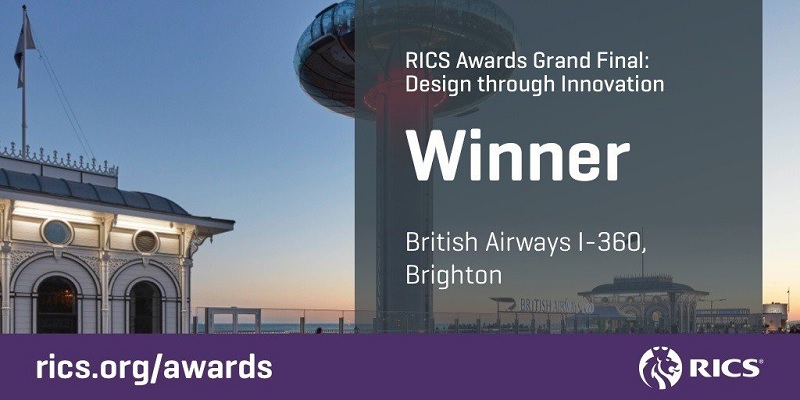 2017 is proving to be an unprecedented year of success and recognition for the British Airways i360, with the scheme now having received no fewer that seven industry awards since the start of the year.
The scheme's most recent accolade came in the form of the Design through Innovation Award at the RICS Awards Grand Final, which recognises the most inspirational initiatives and developments in land, real estate, construction or infrastructure.
Having won the regional accolade in May, the BA i360 progressed to the Grand Final – which took place in London on 2 November.
The RICS judging panel said the project 'pushes the boundaries of technical innovation' and has aided the regeneration of Brighton's seafront.
The judges went on to describe the BA i360's design and engineering as 'impressive and highly innovative', adding that the 'exciting tourist attraction is already proving to be a great success'.
---
The world's most slender tower
At 162 metres high and with an observation pod rising to 138 metres, the British Airways i360 is the tallest observation tower outside London, offering a new perspective on the fun loving seaside city of Brighton.

Sited at the beach end of the historic West Pier on Brighton's seafront, the BA i360 has a slender, elegant design, with a futuristic pod allowing 200 visitors at a time to enjoy the surrounding view as it slowly unfolds. The pod is 18 metres in diameter, 10 times the size of a London Eye capsule, with seating and plenty of room to move around.
Acknowledged by Guinness World Records as the world's most slender tower, it has a height-to-width ratio of 41:1. State of the art cable car technology drives a 200-person capacity curved glass and steel viewing pod up and down, and energy is generated on its descent.
---
Multiple awards
This is the seventh industry award bestowed on the BA i360 during 2017.
In May, the project picked up no fewer than three awards at the 2017 RICS South East Awards ceremony, including the headline accolade 'Project of the Year'.
The following month it was named the Best Public Service Building at the LABC South East Building Excellence Awards 2017.
In August, the project team celebrated success once more, after picking up the Innovation Award at the 2017 ICE South East Awards ceremony.
In October, the scheme picked up the Judges' Special Award at the 2017 British Construction Industry (BCI) Awards.
---
20 November 2017