properties
Protected
2,400
works through
Residential gardens
70
SCHOOL CHILDREN
TOURED THE WORKS
400+
SALTMARSH CREATION
WITHIN SSSI
2Ha
LICENCES/CONSENTS
OBTAINED
20+
Award
winning
Community
engagement
Protecting
Heritage Structures
CLIMATE
CHANGE
Resilience
River &
Terrestrial
Ecological Mitigation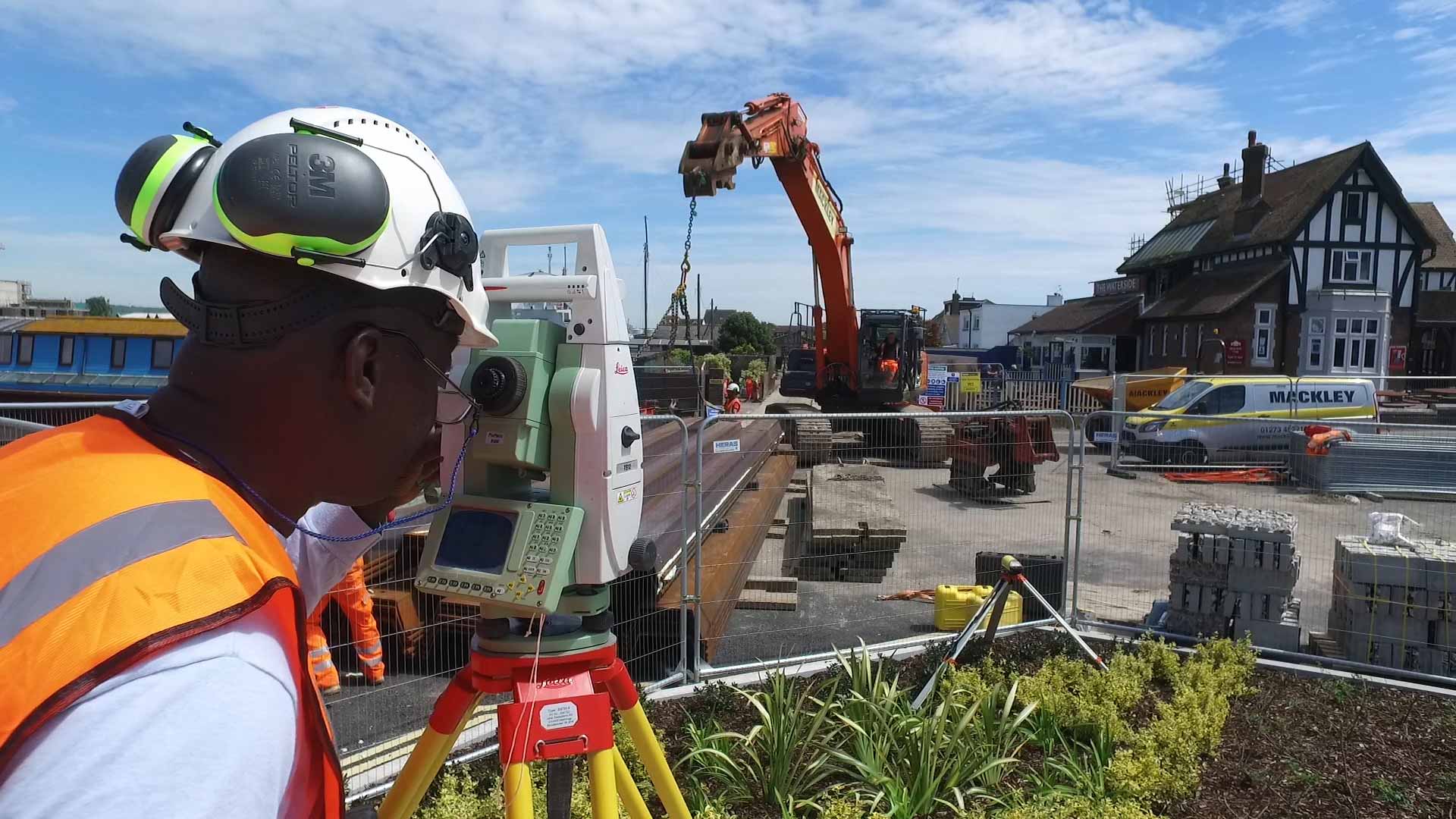 Protecting homes and businesses in Shoreham from flooding
Mackley (working for the Environment Agency as our JV, Team Van Oord) built 7.2km of flood defences along both sides of the River Adur in Shoreham, West Sussex. Due to the diverse nature of the estuary, the scheme was divided into 10 reaches each with its own design and construction approach (W1-7 and E1-3). These included a combi-piled river wall; steel sheet piled river walls; flood embankments; glass flood walls, scour protection, a rock revetment and a managed realignment creating saltmarsh creation.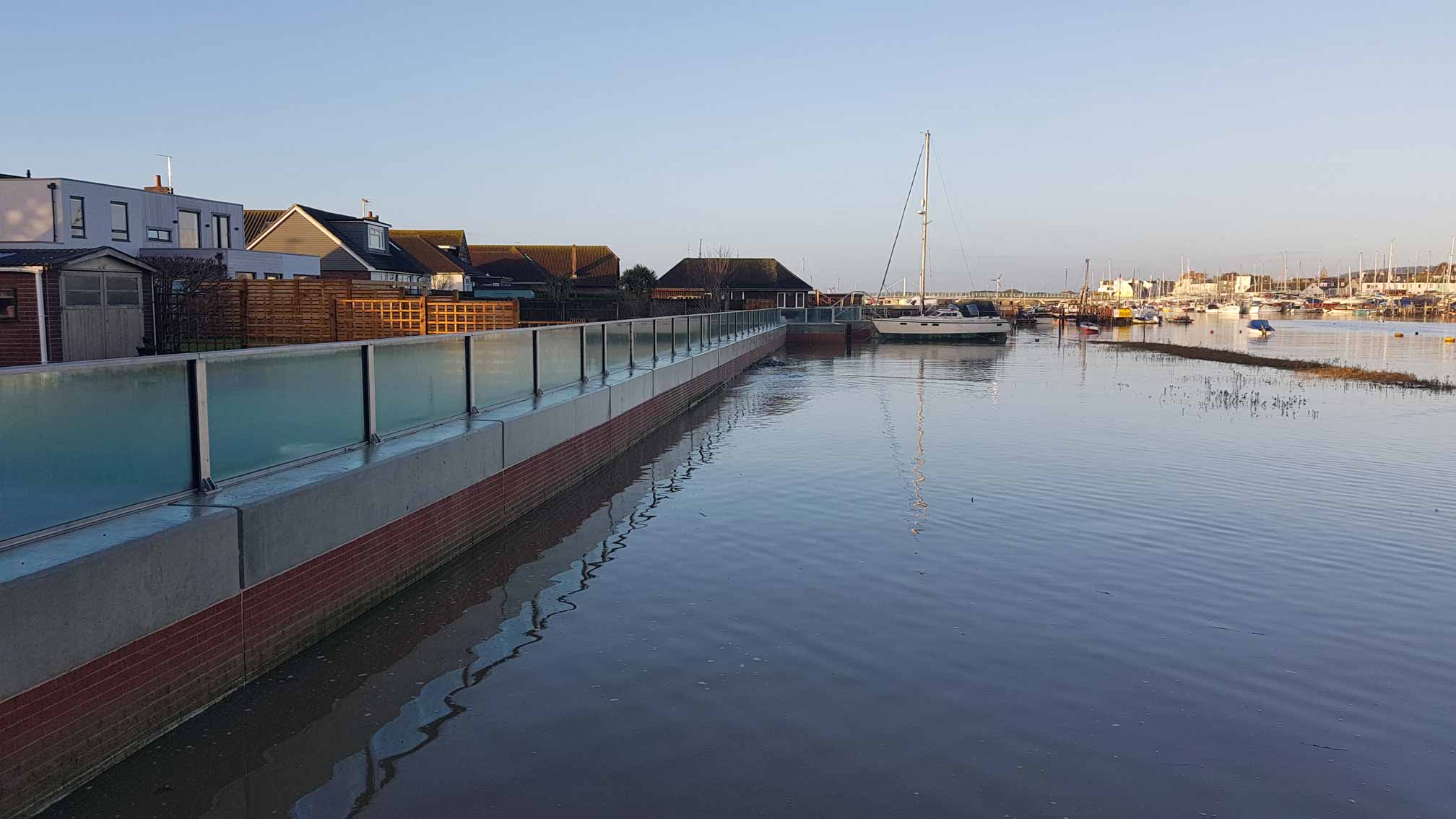 Complex interaction with community stakeholders

Our teams developed construction methods for each defence type whilst protecting multiple receptors including residents, businesses, the operation of Shoreham Port, Shoreham's RNLI Station, multiple protected species, SSSI intertidal habitats, Shoreham Fort Scheduled Monument, river access for boat owners, Shoreham Yacht Club, public rights of way, highways, Shoreham Airport, WWII defences, the rail bridge and more than 20 major utilities serving the town.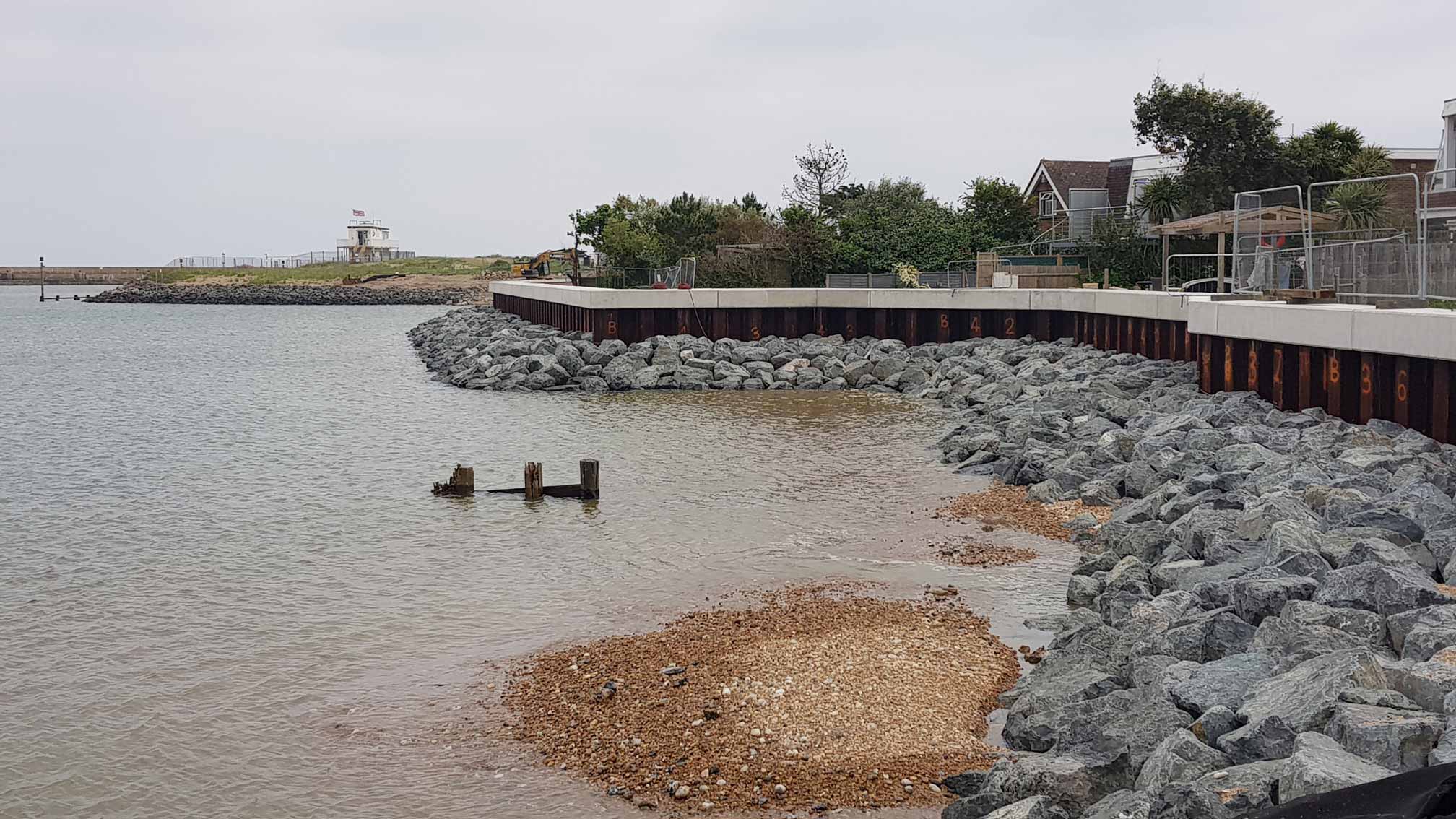 One team management approach
The project delivery hinged on excellent teamwork between all parties, with the Environment Agency, designers and our own staff working from shared offices in the heart of Shoreham.
'I enjoyed meeting EA staff and our partners. It was great to see how collaboratively you work together.'

Emma Howard-Boyd – Chair of Environment Agency'
A great example of local businesses working with government to help boost local development.'

Secretary of State for Environment, Food and Rural Affairs, Andrea Leadsom.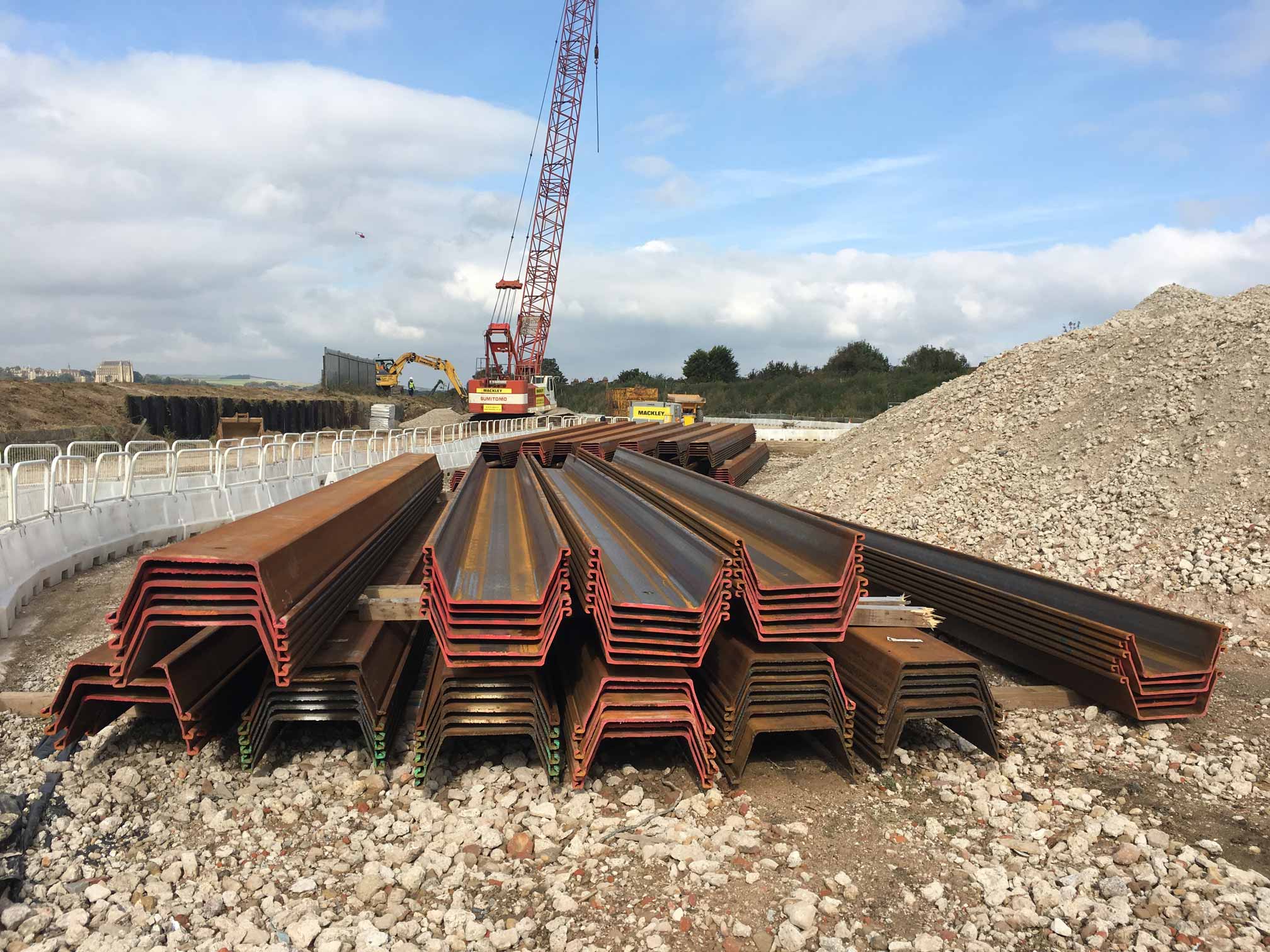 Engineering better solutions
The open and collaborative approach meant that the team were willing to review and reassess design elements. Mackley was able to value engineered major design elements, removing proposals that would have created huge roadworks in Shoreham and realigning defences to reduce impacts on people's homes and gardens.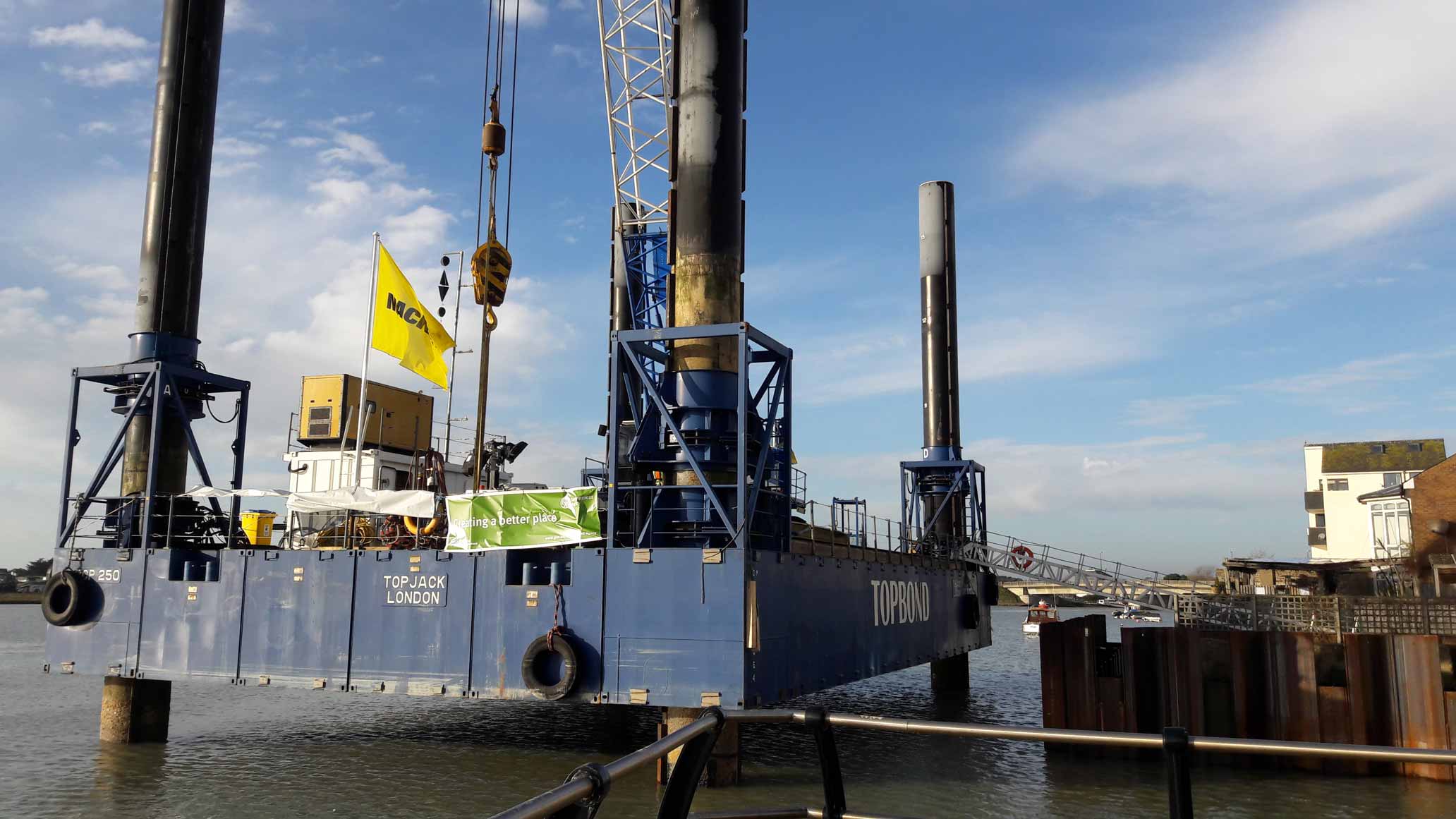 Piling expertise – combi-pile in Reach E1 and sheet piling in Reaches W3, W4 and W5:
Mackley's expert staff installed sheet piling alongside homes and business, overcoming significant access challenges by tailoring the equipment and methods to meet the location. Some of their skills in river works are shown through manoeuvring the jack up barge and its 90T crane through Shoreham Millennium bridge – see Jack-Up Barge in Action at SATW here.
Working within the community
The defences ran through or alongside over 70 residential gardens, past commercial units, through Shoreham playing fields, alongside a busy pub beer garden and alongside the airport. Our stakeholder engagement gained the agreements needed to complete the works and built positive relations with the local community.
Benefitting wildlife as well as people
Large areas of the works were within the Adur Industry SSSI and were home to protected plants and species. Our mitigation protected wildlife and included a 2hectare managed realignment that will create new mudflats and saltmarsh.
Place-making
The designs and visual appearance of the defences was carefully considered to match Shoreham's townscape, with flood walls finished with knapped flint, traditional brick and decorative flood glass. The whole scheme improved the accessibility and feel of Shoreham's river frontage.
'We have been treated so well, with great care being taken to let us know what is happening in advance…They have been able to tell us what is about to happen on a day to day basis, and have also come to our evening meetings, letting us ask questions about anything that is bothering us.'

Jess Jermain, Secretary of the Adur Houseboats Association.
'This project fosters an approach to rising water impacts in a balanced and sympathetic way.'

Judges of British Construction Industry Awards for the Climate Resilience Project of the Year Award.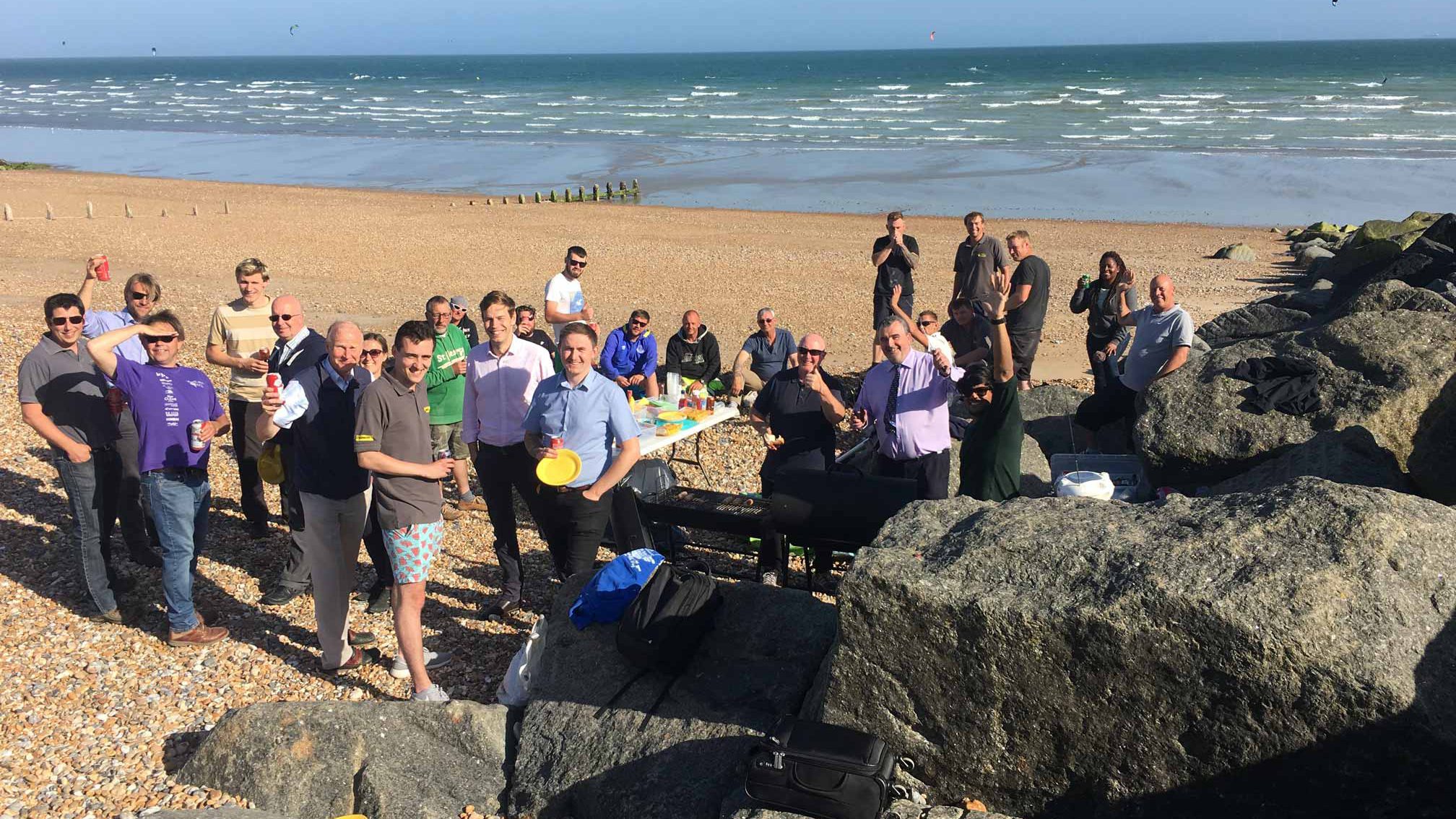 Winner of 10 industry awards including:
2020 RICS Social Impact Awards infrastructure scheme of the year 'Recognising the built environment's positive and transformational contribution to society'
2019 British Construction Industry Awards Category: Climate Resilience Project of the Year
2019 Green Apple Award